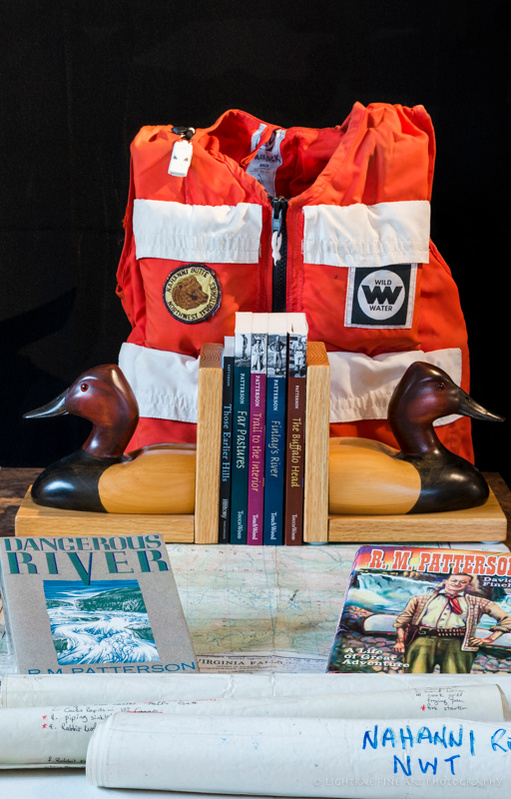 The acclaimed author, adventurer, and rancher Raymond M Patterson introduced me to the Nahanni River with his book, The Dangerous River, while I was an undergraduate student at the University of New Brunswick. Little did I know at the time that reading his exploits on the Nahanni was to change my life and fuel my dreams of living a life of adventure. I have all of RM Patterson's books and they're all terrific reads, and I've paddled many of the other rivers he chronicles in them. Patterson lead an amazing life and has a mountain named after him in Kananaskis, Alberta and many place names in Kananaskis are names he gave them on his my sojourns into the mountains with his side kicks George Pocoterra and Adolf Baumgart. Patterson was an Oxford educated graduate, a former Bank of England employee, and a German prisoner of WWI who gave it all up to head to the wilds of a new territory in the Dominion of Canada, Alberta. The author David Finch wrote a wonderful tribute to RM Patterson, titled, A Life of Great Adventure.
Originally I was into white water kayking having taken courses from the "Grandfather of White Water Paddling in Western Canada", Brian Creer and at the Blue Lake Centre in Alberta from a former Olympic paddler from Czechoslovakia. However my restless soul on the West Coast of Canada longed to paddle the great rivers of Canada and so I sold my river kayak and switched to a C1 so as I could learn to be a better single blade paddler. I then bought my Old Town Tripper canoe, "Betsy", in 1979 from a friend-I met him while I was instructing nordic skiing at Mt. Baker, Washington-who owned an outdoor store in Bellingham, Washington. I soon learned I needed a spray cover if I was to paddle more challenging sections of water and so I somehow managed to convince an old Greek upholsterer who owned a shop on east Marine Drive in White Rock-while it was still a sleepy little town-to custom make me one. Believe it or not, it's still in use today with its big, bold red maple leaf sewn into the electric blue cover. What a thing of beauty!
I first self guided and paddled the Nahanni River in 1981 and then again in 1985 I guided two very good friends I met the year I was on a Science Teacher Exchange in Canberra, Australia-1983. Nahanni is the premier river trip in North America and I had the great privilege of being guided by a Parks Canada ranger into the famous Valerie Grotto cave system in exchange for delivering three public lectures in metropolitan Vancouver. Less than 1% of the public have ever been to the Valerie Grotto and most wouldn't know where to find it high up in one of canyons of the Nahanni. I must thank my Member of Parliament at the time, Benno Friesen, for agreeing to contact Parks Canada on my behalf and move "Heaven and East" to grant me permission. What I saw in the Grotto was simply amazing and a once in a lifetime opportunity. The Nahanni's canyon walls are deeper than the Grand Canyon and the side trips are innumerable, along with the famous Virginia Falls, Cirque of the Unclimbables, the infamous Hell's Gate, Pulpit Rock, and Rabbitkettle & Kraus' Hot Springs and the highest tufa mounds in the Northern Hemisphere. Frankly, one could spend a lifetime just exploring the Nahanni country from its headwaters to the mighty Liard River and never see it all. One last story was at Dry Canyon and a day trip up into the plateau. Coming home to camp we once again had to traverse the Dry Canyon creek and it had risen substantially in the intervening hours from whence we last crossed it. Leading the away after much debate where to cross I managed to get three quarters of the way when I couldn't go any further with the others watching me wide-eyed from the safety of the bank. With a day pack on my back, camera bag on my chest, and hiking boots on my feet I started swimming back to the other side with my mates now in panic mode. Thank god-it truly was a religious experience-one of my party threw himself down on his tummy and reached over the three foot high rocky embankment to grab my wrist in a vice lock and I swung violently into shore. I couldn't have done it on my own; the rocks would just peel off every time I tried to secure a hold on the embankment. I would not have ended well being spit out into the gaping jaws of the Nahanni. Lessons learned: 1). Always take a rope with you for creek crossings and teach everyone how to belay someone. 2). Rivers and creeks have a way of gaining volume later in the day. 3). Carry high top runners for river or creek crossings. 4). Train everyone in creek and river crossings-three point stance and 45 degrees to the current. 5). Use the current to ferry oneself across the river should you-god forbid-find yourself swimming like I did.
Over the years my C1 and Old Town Tripper-"Betsy"-has seen the Chilliwack, Capilano canyon, Similkameen canyon, Seymour, and Fraser rivers-southern British Columbia; Gold and Campbell rivers, and the Broken Islands-Vancouver Island; the Deas, Stikine, and Liard rivers plus the Bowron Lakes-northern British Columbia; North Fork of the Nooksack canyon, Sauk, and Skagit rivers-Washington State; the Coppermine, Burnside, Mara, and Hood rivers-Nunavut; and the Bow, Milk, North Saskatchewan and Athabaska rivers-Alberta.
"Betsy" has been a terrific companion and guide on my many trips with her. She's tough as nails and resilient to a T. She's never let me down and she's always done what I've asked of her when in a frightful situation. Like the time we were inadvertently forced to navigate backwards down a boulder garden rapid on the Burnside River, when out of the corner of my eye I saw a small opening between two monster boulders and commanded her to deliver a 180 degree spin. On a dime we made that spin above the almighty roar of the angry waterway licking at our gunwales. I love "Betsy" as much as anyone can love an inanimate object. She's been my pride and joy all these years. "Betsy", thank you for the marvelous memories and the many trips of a lifetime.
All the canoeing experiences, and instructing flat water and white water paddling on the Pacific Ocean behind the White Rock breakwater or Serpentine River and the Chilliwack River respectively have provided me with many moments of joy and new friendships. Canoe tripping has been just one of the many outdoor pursuits over my lifetime and I thank all of you who have accompanied me on this journey. My life has been blessed because of you!
Footnote: I came to Alberta in 2013 via the West Coast where I'd lived for 39 years. I was headhunted to be the CEO/GM of a Corporate Conference Centre and little did I know that would connect me to Raymond M Patterson and the South Nahanni River adventures. Fore it was RM Patterson that founded the Buck Spring Ranch on the Ghost River and sold it to George Pocaterra in exchange for Buffalo Head Ranch-plus $700-in Eden Valley, Kananaskis Country that was to later be developed into The Crossing at Ghost River.